June edition of OUR NEWS is here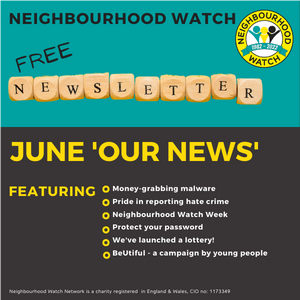 We are thrilled to share with you the June edition of OUR NEWS, a newsletter for Neighbourhood Watch supporters across England and Wales. 
This edition covers topics from cybercrime to hate crime and heart-warming articles highlighting community connections and celebrations. 
To read it, please click here.
NEIGHBOURHOOD WATCH NETWORK, Central Support Team
Follow us.. ourwatch.org.uk / Facebook / Twitter / Instagram / LinkedIn
Neighbourhood Watch Network is a charity registered in England & Wales, CIO no: 1173349